Travers McLeod - Speaking Notes | Economic and Social Outlook Conference | 2 November 2022
Economic and Social Outlook Conference
Melbourne, 2 November 2022
Panel on Jobs & Wages
Opening Remarks - Travers McLeod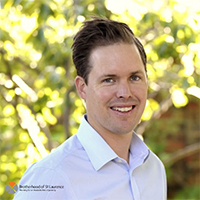 Thank you, Tom, and good afternoon everyone.

I want to start by acknowledging the Wurundjeri People of the Kulin Nation and paying my respects to elders past and present, along with Aboriginal and Torres Strait Islander People here today or watching online. The Brotherhood of St Laurence has accepted the generous offer in the Uluru Statement to walk together towards a better future for Australia and we're proud to add our support to a constitutionally enshrined Voice to Parliament.

I'd also like to congratulate the Melbourne Institute on 60 terrific years and wish the organisers of this Outlook Conference a happy 20th anniversary.

I'm going to add three observations to those made by Catherine and Mark.
The first is what we're seeing and hearing in our services.
The second is the opportunity to reform our employment services system.
The third are some questions we can't duck if we're serious about wellbeing.

What's happening on the ground?

Now BSL is over 90 years old and has 2500 staff & volunteers working in services across the life course, from the early years, youth, employment and settlement, to services for people with disability and for older people in Australia. Much of our workforce focusses on key transition points, transitions that build capability and confidence or deepen disadvantage. BSL is unique because we don't exist simply to serve the system. We try to change the system and create lasting change so more Australians are free of poverty.

It's a Captain Obvious point, but the people and communities BSL serves are doing it very tough. The hike in energy prices and inflation has hit people experiencing poverty and disadvantage hardest, when their budgets have no more room to give. A few examples:
We've heard from a single parent in our

SaverPlus program

– which focusses on financial wellbeing – about how she is using the savings from the program to pay for her child to go on a school excursion.
Staff in our early years playgroups are being asked very discretely by parents attending if they can take the leftover cut fruit home for their other children.
Our August report,

Power Pain

, revealed nearly 1 in 4 households were experiencing energy stress in 2020, well before these price spikes hit. It found energy stress is much higher for people with a chronic health issue or disability, renters, low-income workers and people on Jobseeker.

Now we know there wasn't much in the Budget to address the pressures facing those households right now. The Treasurer was clear about the reasons for that this morning. But we can't escape the fact that their lives will be much tougher over the coming months.

The reality is there will also be much greater pressure on the human services system. It won't surprise you to know many of the funding agreements that make these services possible in the community were agreed in a very low inflation environment. We've seen low or no indexation for those agreements. The Budget created a pot over four years – $140m each year – for community services to apply to for relief where there are wage pressures and inflationary pressures. Now this is a worthy investment but my worry is this will create a bit of a Hunger Games for community services, which we don't need.


Our employment services system must change

Another thing we don't need is for our employment services system to stay the way it is.

Let me give you some numbers to make the point.

At the end of September there were over 770,000 Australians on the Workforce Australia system and looking for work – a number up 26% since before COVID. Victorian data suggests there are at least 600,000 people here in this State who want to work or want to work more hours.

If the employment services system was doing its job, we would be closer to full employment. We wouldn't have as big a skills shortage as we do.

Now this system isn't cheap. At the Commonwealth level alone it costs around $7b over five years – it's one of the biggest procurements after defence.

What we explained at the Jobs & Skills Summit, and what we've heard from participants and employers, is that Australia's employment services system doesn't work well for the most disadvantaged jobseekers. It simply doesn't build capability and confidence in the places and situations those jobseekers find themselves, or work effectively enough with employers.

The Full Employment White Paper and Review of Workforce Australia present a great opportunity to reform this system so it can build better pathways to economic participation rather than focus on policing the payments system. There are much better ways to engage employers proactively in this, and for governments to partner at the local level.

Question we can't duck if we're serious about wellbeing

The Budget laid down some important building blocks for the early years, women, housing, skills, climate, and for older people. The projections sent a clear signal about needing to improve the effectiveness of the services and supports many in the community rely on and the certainty of the revenue needed to deliver them – that debate is bound to pick up, as the Treasurer signaled this morning.

Now the Wellbeing approach should, in theory, pave the way for a rewiring of investment into building the confidence and capability of Australian communities, and to reducing persistent disadvantage.

What would this mean in employment services? Well, a capabilities approach to employment would offer flexible and personalised employment support, tailored to the local context and the individual's needs and circumstances. It would ensure essential infrastructure is in place to enable people to take up job opportunities, like affordable housing, quality early learning, and public transport. It would provide meaningful career guidance, training and skill building for individuals, and work with employers to grow job pathways and create inclusive work environments. It would link people with complementary support services.

Importantly, this system would ensure people have enough money to live on when they need government support and not penalise them for trying to improve their situation. It would think differently about the conditionality of government payments. This doesn't mean no expectation, but recasting mutual obligation around the mutual investment and accountability consistent with building human capital.

We saw during COVID how people could be lifted out of poverty with the stroke of a pen. We can have a big impact on pathways out of poverty if we get serious about redesigning our employment services system.

But the bigger questions we can't duck in any of this is what a 21st century social security system should look like if we're serious about wellbeing? How much stronger does our safety net need to be if we're serious about lifting people out of poverty and ensuring the doors of opportunity are open to everyone? What's the poverty rate reduction we're aspiring to? Is it acceptable to have 750,000 children in poverty, a number that would fill the MCG 7.5 times? What will it take for our social security system – to use the words of our participants – to feel less like a trap? And how does the tax system need to change alongside this?

Right now, there are simply too many on the edge and they face a very bleak period ahead. They are being told that short term pain will bring longer term gain.

Well, I think removing the traps keeping children and adults in persistent disadvantage simply must become a much bigger national priority. This was at the heart of the Shifting the Dial report from a few years ago.

The longer we wait, the harder it will be for them to catch up, and the poorer our nation will be as a result.

The Brotherhood of St. Laurence (BSL) is a social justice organisation working to prevent and alleviate poverty across Australia.

Media inquiries: Bridie Riordan M: 0491 159 256 , Email: media@bsl.org.au
Print
Share