Work and Learning Centres
Work and Learning Centres help Victorian jobseekers, especially those living in public housing communities, find a job.
Participants receive advice and guidance on job search techniques, applications and career development, and together with their Work and Learning Advisor, develop a personalised Work and Learning Pathway Plan.
Once in a job, advisors continue supporting their participants to excel in the workplace and grow their career.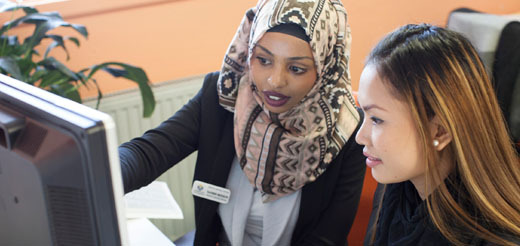 BSL holds the rights for Work and Learning Centres, and since 2012 has partnered with reputable community organisations to run five Work and Learning Centres across Victoria.
Training and support services
We provide:
advice on resume preparation
workshops on Australian workplace culture
interview techniques and personal presentation
advice on how to meet the needs of local industries
training and connection with accredited and non-accredited training.
Work and learning advisors
Work and learning advisors at the centres will:
introduce participants to local services, such as training groups, English classes and volunteering opportunities
connect job seekers to local employers or to employers offering traineeships and apprenticeships
advocate on behalf of their participant to other agencies, such as Centrelink, Jobactive and the Victorian Department of Health and Human Services (DHHS)
continue to support them after they start work or training.
For employers
If you run a business that has job opportunities and want to learn more about how to hire through us, contact your nearest centre using the details below, or call 03 9288 9900
Find out more
To find out more about the program, please contact your local Work and Learning Centre to discuss if this program is right for you. Contact details for the five sites are below.
Please note that due to COVID-19, our centres are limiting face-to-face sessions, and are operating online.
Centre locations
Work and Learning Centres are a Brotherhood of St. Laurence initiative, funded by the Victorian Government.