Browse a selection of handmade children's toys made from recycled natural fibres.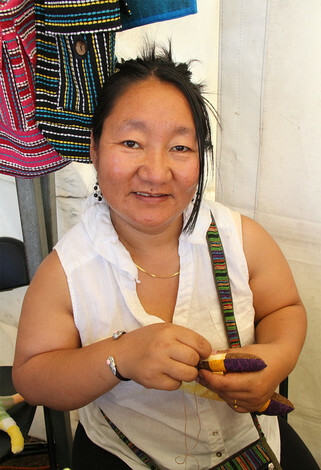 "In the future I hope to ask some men or women from my community who can sew, and teach them how to make soft toys and have a permanent market. This is my dream."
Lhakpa came with her family to Australia from Tibet on a refugee visa in 2009.
Due to the poor provision of education for children in Tibet, Lhakpa didn't learn how to read and write until she was 20, after she had escaped from Tibet to India for a better life.
It was also there that she learnt how to use a sewing machine while working at a local factory, making traditional dresses and robes for monks.
After arriving in Australia she needed to find a job. It wasn't an easy time. Then she saw a market stall where handmade toys were sold. This gave her an idea. "I could do this," she thought.
Through the Stepping Stones program, Lhakpa explored how she could use her sewing skills to develop a small business. The program provided her with skills in developing financial literacy, creating a budget and even using a calculator.
"Stepping Stones taught me how to market and sell my product. This was very helpful to me."
Her business is called Tugu Designs – tugu is the word for children in the Tibetan language. Lhakpa hand-sews children's toys using recycled material and natural fibres. Many of her toys depict Australian animals, and are simple and beautiful in design.
Lhakpa sells her toys at local markets, making them as she sells. She would one day like to establish a permanent market stall and employ Tibetan migrants like herself, teaching them her craft and selling toys to larger markets and suppliers.
Find Tugu Designs on Facebook