Browse a selection of beautiful handmade dolls with unique characteristics.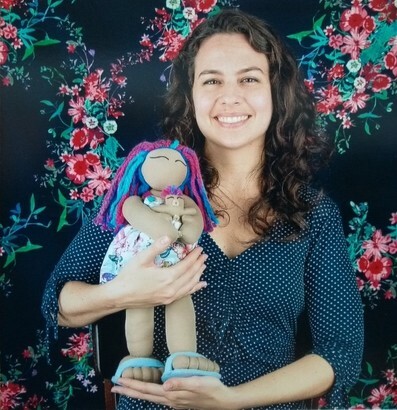 "I work as a Doula supporting women during pregnancy/childbirth and breastfeeding and I make dolls that help the family prepare for the arrival of a new baby."

Milia came to Australia from Brazil in 2015 with her husband, a chemical engineer who had found work doing research.
In 2013 Milia started to make baby shoes to give as gifts to the pregnant women she used to attend as a Family Nurse. After arriving in Melbourne she says her husband encouraged her to continue to pursue her hobby and provide an output for her creative talents.
Milia had the idea to create a doll that could be used for her work as a doula. A doll with the characteristics that women have during pregnancy to provide a useful tangible tool to help an expectant mother and her family prepare for the newest addition. Milia has expanded to also sell reusable clothpads and breastpads to help provide environmentally friendly products.
Milia says Stepping Stones to Small Business has taught her empowerment, networking skills and helped her understand more about operating a business in Australia.
Find Milia Simielli online , follow Milia Simiellion Instagram and Milia Simielli on Facebook .