A TUK products are unique in combining upcycled fabrics with the vibrant colours of Ankara or African Wax Cloth. My products reflect my environmental values as well as my commitment to educating people about my culture and its love of exuberant colour and patterns.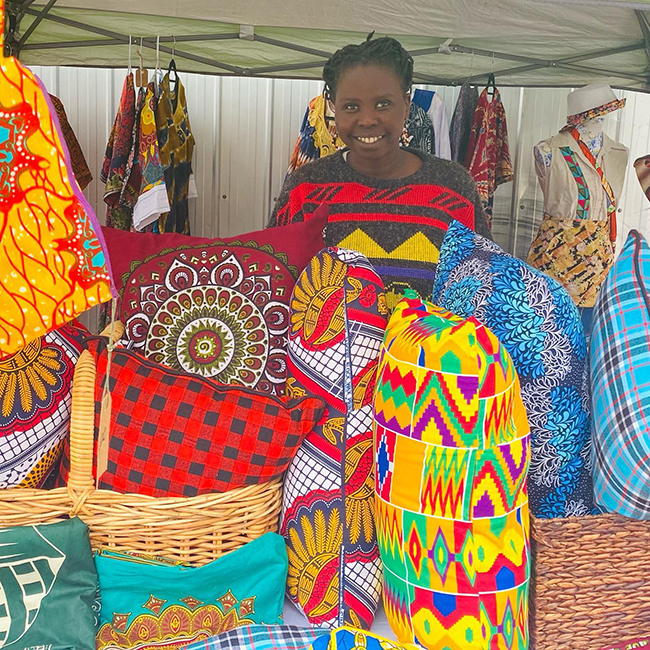 I am of Ethiopian and South Sudanese background, and came to Australia with members of my extended family in 2003 as a refugee after spending a number of years in displaced persons' camps.
I still have family in South Sudan who I provide some support.
I was working in childcare until I had my 5thchild at the end of 2017. I couldn't find affordable childcare myself at that point, so began to think about starting a home business to support myself and my family. I wanted something that would show my culture to my new Australian community, and thought that a sewing business would be good – though I didn't yet know how to sew. I taught myself how to sew from YouTube videos and from a short sewing course with the Ballarat Neighbourhood Centre. In the meantime I began to work with the Pot of Courage social enterprise, learning about running a food business; I then enrolled in the Stepping Stones To Small Business program in 2019 to learn how to set up my own business.
My business A TUK means 'to begin' in my Nuer language. It means to show that we start a new beginning with our ideas and our energies. A TUK produces and sells a range of homewares and fashion accessories: cushions, table linens, shoulder bags, and scarves. I also feature traditional Sudanese beads created by older women from my community, as well as offering a clothing alterations and repair service. My goal with A TUK is to have a business that supports my family, but that also shows my community members that they, too, can become independent by using the ideas and the skills that they already have.

Visit A Tuk website .
Check out my Facebook page  and Instagram .