Queensland's 2019 Local Hero, Elijah Buol, says business must step up to help young people from refugee and new migrant backgrounds find pathways into employment – and belonging.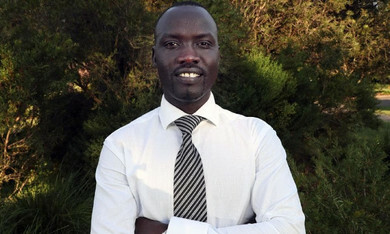 I was 16 when I came to this country as what is known in the legal jargon as an 'unaccompanied minor'.
What these words really mean is that I lost my parents in the Sudan war: my mum when I was six years old and my dad when I was aged 11.
I had to face life in Australia alone, and that was a struggle. But I was also well supported in the community as I knew to ask for help when I most needed it.
All teenagers face challenges as they make the transition to adulthood, and this is especially so for young people of refugee backgrounds.
The practical challenges refugee youth face include accessing appropriate services.
From my own experiences, I know opportunities for education and employment are absolutely critical for successful settlement.
One of the drivers of 'belonging' to a community is to allow people to have jobs to sustain themselves. I believe the employment rate for young Australians from refugee backgrounds is something governments and policymakers need to pay far more attention to.
Yes, Australia is a welcoming country. But we need to capitalise far more on the diversity that we have, and see it as a competitive advantage in a globalised world.
If you look at the Australian African community, for example, we've got young people who have been to university and finished their degrees, and yet they can't access the fields they've trained in, or are unemployed. That can lead to a situation where other young people from those communities get a message that "There's no need for me to go to school, because my brother has a degree but has no job". This can contribute to young people becoming disengaged from the mainstream and losing hope to aspire for a better opportunity.
Sensational headlines don't help. We need holistic strategies – and business must help create pathways into work through initiatives such as formal work experience programs. This is the big call I want to make: employers, across different sectors, need to step up and support young people of refugee and new migrant backgrounds into work. This is key to seeing our young people functioning well in society and empowering them to help create a better tomorrow.
Young people, including those from refugee backgrounds, are the backbone of modern Australia and investing in them today is to prepare for a better tomorrow for us all. The bricks we lay today determine the foundation of modern Australia in generations to come. The potential can't be realised unless we invest in our most marginalised youth, who need our support the most of all.
How did I adapt and get to where I am today?
I've always believed that I am not alone and must embrace my strengths and challenge my fears. Everyone has the ability to turn their life around regardless of their past experiences.
I am also not afraid to ask for help and guidance. One of my high school teachers was prepared to come to school at 7 am every morning to help me. I would sit with her and she'd help with my reading and correct my grammar. My teacher was born here in Australia, most likely a several generations Queenslander, and extended her helping hand to me.
I did not get the top mark at school, but I was able to go to university. I work professionally and am now doing postgraduate law studies at ANU. I attribute this success to the help that I got early on.
People often ask me how I 'made it' after arriving here as an orphan, an unaccompanied minor. I always say it's about looking forward. Martin Luther King said it better than I can: 'If you can't fly, run. If you can't run, walk. If you can't walk, crawl. But by all means, keep moving.'
That's the message I try to pass on to young people.
Criminologist Elijah Buol, OAM, arrived in Australia in 2002 as a child refugee and lives in Logan, Queensland. He was chosen as Queensland's 2019 Local Hero in the Australian of the Year Awards and has 14 years' experience working in youth services. His advocacy helped remove children under 18 from adult prisons in his home state.
Read more at the Australian of the Year honour roll
This column first appeared in the Brotherhood of St Laurence's Youth Unemployment Monitor March 2019.